Random image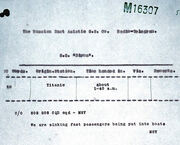 With 344 images on our database, there is no shortage of images of Titanic, her survivors, crew & victims.
This image has been randomly selected from our database. Each time you visit our site, you should see a new image here. For more information about it, click directly on the image. The resulting page will detail when it was uploaded, by whom, and often overview which articles use that particular image.
Titanic returns
[
]
On April 6, 2012, Titanic 3D will debut and you are invited to "experience it like never before." The release date is just four days before what will be the 100th anniversary of the day the doomed vessel set sail. The RMS Titanic was taken down four days into its maiden trip on April 14, 1912, after hitting an iceberg.
Latest activity
[
]